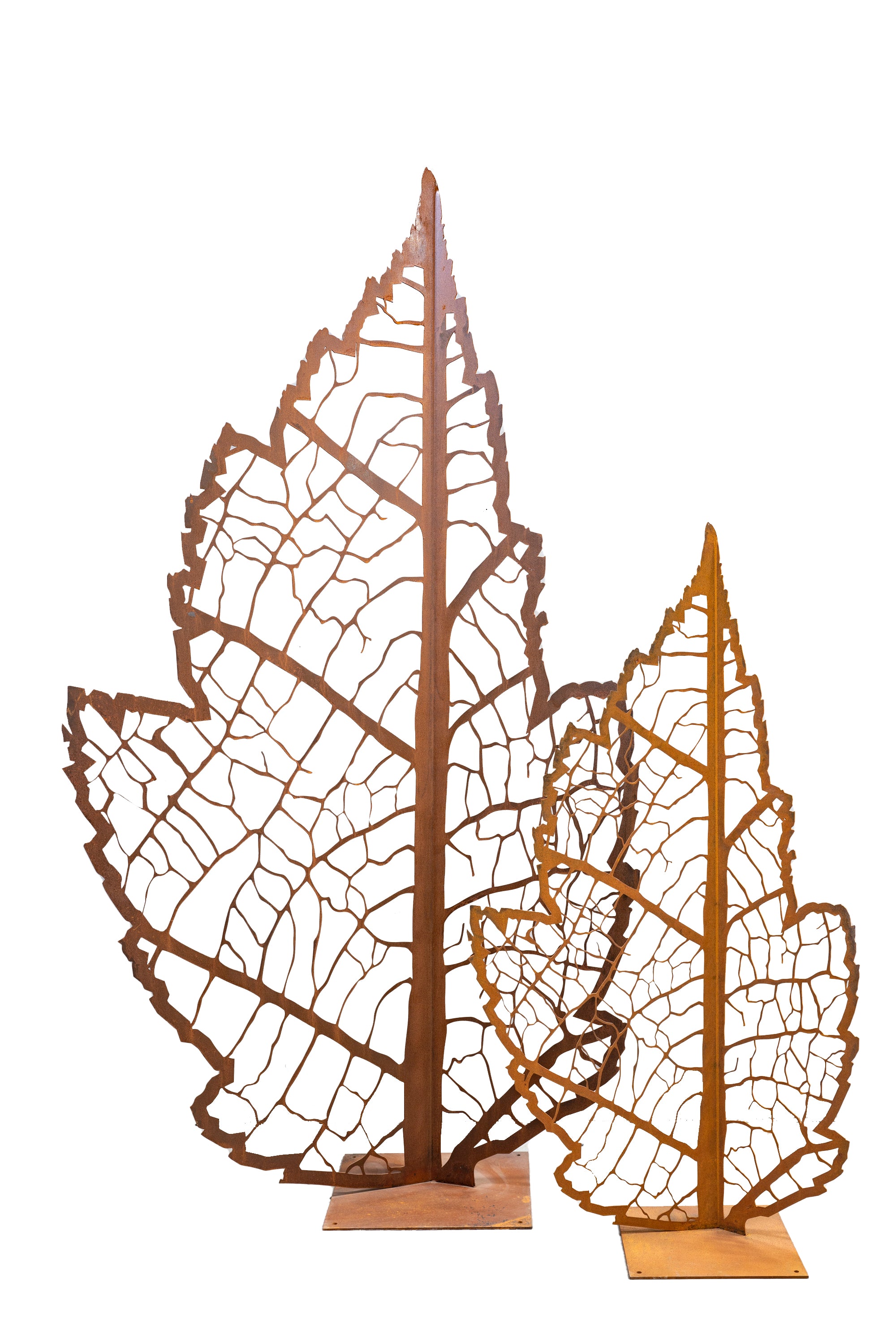 Leaf Fold- leaf Skellington- Corten sculpture
Save

Liquid error (snippets/product-badge line 32): Computation results in '-Infinity'

%
This leaf fold is one of our favourite sculptures due to its folded design. The 135 degree angle in the leaf means that this sculpture can be admired from all angles without losing it's effect. The intricate design means the sculpture is transparent at points, taking on the colours of the background behind it, meaning this sculpture is absolutely perfect near some greenery, as it fills in the leaf.
Product Details

Leaf Vein Sculpture, is a mesmerizing art piece expertly crafted from 3mm Scorten weathering steel. This exceptional material choice enhances the sculpture's appeal and ensures it withstands the test of time, becoming a unique and enduring addition to your space.

Various Sizes:

Available in multiple sizes to suit different preferences and spaces.
Size options (approximate dimensions):

Small: Height 1500mm x Width 800mm
Large: Height 2400mm x Width 1000mm

Installation Options:

Easy installation with two options to choose from:

Reo bar spikes for a secure and stable garden placement.
Flat base for versatile indoor or outdoor display.

corten Weathering Steel:

Crafted from 3mm Scorten weathering steel, renowned for its exceptional strength and resistance to corrosion.
The weathering process imparts a beautiful rustic appearance, allowing the sculpture to blend harmoniously with natural surroundings.

Design and 3D Effect:

Features an intricate leaf vein sculpture design, capturing the beauty of nature's details.
Central fold at a 135° angle, adding a stunning 3D effect to the sculpture.

Customization:

Custom-made options are available upon request (Price on Application).
Tailor the sculpture to your specific preferences, including size and finish.

Garden Setting:

Cluster the Small and Large models together in a garden setting to create a visually impactful display.
Perfect for outdoor spaces, adding a touch of elegance and artistry to your garden or landscape.

Handcrafted in Melbourne:

Made with meticulous craftsmanship in our workshop located in Melbourne.
Embrace the quality of locally made artistry for a one-of-a-kind piece.

Showroom Visits:

Make an appointment to visit our showroom and experience the beauty of the sculptures in person.
Witness the artistry and attention to detail that goes into each creation.

Site Visits:

Call us to arrange a site visit to discuss installation options and find the perfect spot for your sculpture.

Size Comparison:

See the size comparison to get a clear understanding of how the sculpture will fit into your space.

Shipping Details:

Interstate and country deliveries may require a shipping crate for added protection during transit or furniture truck delivery 

Transform your living spaces with the captivating Leaf Vein Sculpture, made out of 3mm Scorten weathering steel. Embrace the beauty of nature's artistry while enjoying the durability and resilience of this exceptional material. Elevate your space with this stunning sculptural masterpiece that will gracefully age over time, adding charm and character to your surroundings.

See the size comparison to get a clear understanding of how the sculpture will fit into your space.