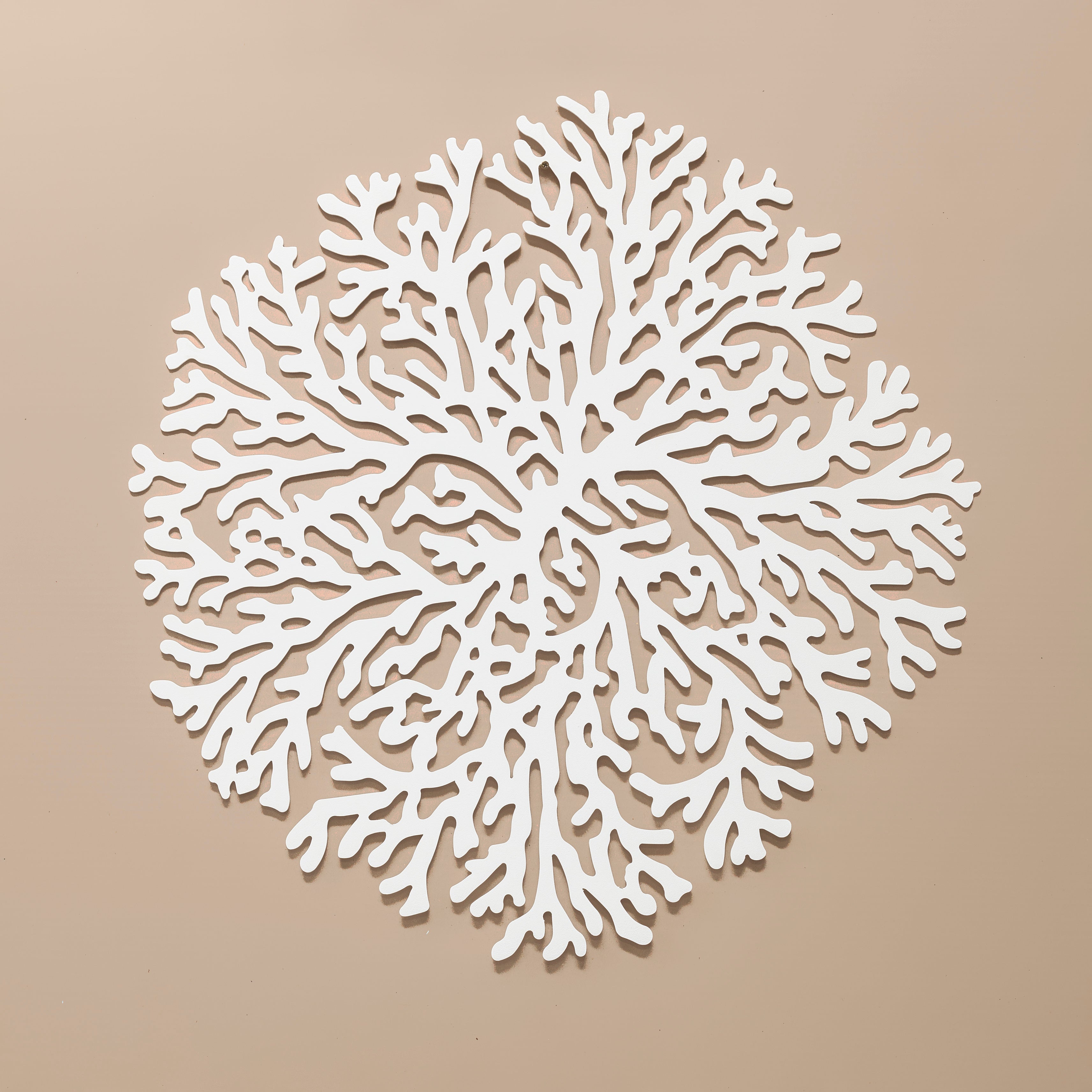 Coral Reef Deco – Metal Wall Art
Save

Liquid error (snippets/product-badge line 32): Computation results in '-Infinity'

%
This tri-panel design has a distinct seaside vibe. The organic coral design is framed in two panels and beautifully unfettered between the centre piece. The shadow play created by this design means it is perfect on a wall that sees the movement of the sun across the day or the moon by night.
3 x 800 mm x 800 mm
Product Details

Create a Coastal Paradise with Coral Reef Deco – Metal Wall Art

Introducing our newly launched Coral Reef Deco – Metal Wall Art, designed to infuse your outdoor living spaces with a coastal theme. Crafted with passion and expertise in Melbourne, this captivating wall triptych brings the beauty of the sea right into your home.

Available Sizes:

Small: 750 mm DIA
Medium: 800 mm DIA
Large: 850 mm DIA

Custom Powder Coat Finish:

For a personalized touch, choose from a range of powder coat finishes (POA) that suit your unique style and complement your outdoor decor.

Embrace Your Love for the Sea:

The Coral Reef Deco collection is born out of our deep love for the sea. This set of three coral designs lends itself perfectly to a white or rust finish, capturing the essence of coastal beauty. Imagine these stunning pieces adorning a poolside wall or gracing the walls of a Cape Shank-designed home, creating a tranquil and enchanting atmosphere.

Expertise in Alfresco Wall Design:

With 25 years of experience in designing for outdoor spaces, Entanglements takes pride in creating personalized artworks that stand the test of time. Our clients continue to delight in their customized pieces, with many returning for more, testament to our dedication and commitment to excellence.

Stunning Panel Dimensions:

Each panel of the Coral Reef Deco triptych measures approximately 800mm x 800mm x 50mm, adding depth and dimension to your outdoor walls.

View Our Large Metal Wall Art:

Visit our Ormond showroom to experience the grandeur of our Large Metal Wall Art firsthand. Witness the craftsmanship and attention to detail that go into creating each captivating piece.

Worldwide Shipping Available:

Not in Melbourne? No problem! We ship our beautiful Coral Reef Deco – Metal Wall Art Australia-wide and internationally. Now you can bring the coastal paradise to your outdoor space, no matter where you are.

Designed by Award-Winning Artist Helen Neyland:

The Coral Reef Deco collection is the brainchild of the award-winning artist Helen Neyland. Her artistic vision and expertise shine through in every detail, ensuring that each piece is a masterpiece of beauty and creativity.

Elevate Your Outdoor Space with Entanglements:

For the past 25 years, we have proudly been the leading experts in design, custom-made, commercial, and residential garden art, enriching outdoor spaces with artistry and elegance. Our commitment to Australian-made and designed products reflects our passion for showcasing the beauty of local craftsmanship.

Personalized Solutions – Installation and Shipping:

For installation and shipping inquiries or if you have a custom-made request, reach out to us at 03 95769600 or via email at sales@entanglements.com.au. Our team is here to guide you through the process and create a coastal paradise in your outdoor living spaces.

Transform Your Space with Coral Reef Deco – Metal Wall Art:

Elevate your outdoor living spaces with the charm of the sea. Dive into the captivating allure of the Coral Reef Deco–Metal Wall Art and let its beauty mesmerize your surroundings. Embrace the coastal paradise and make a statement with these stunning pieces today!