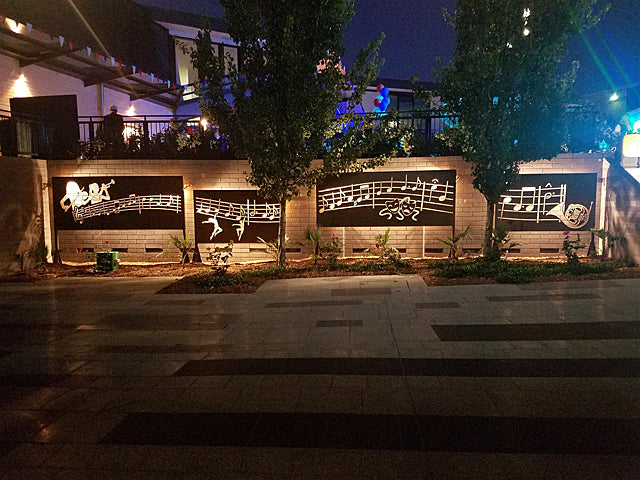 Performing Arts Mural
Written for Entanglements by Outdoor Design Source
As the school year was ending in 2018, Entanglements was approached by Presbyterian Ladies College, Melbourne to help them find a simple solution to screen off a large (and very bland) retaining wall.
The wall was positioned right in front of the entrance to the college's brand-new performing arts centre. The principal and head groundskeeper were looking for ways to hide this wall and create a point of interest in a space that previously had none. In early discussions, Entanglements thought the space would be the perfect location for a mural that would connect the existing school to the new arts centre.
Over the following few weeks, the Entanglements team worked with the school on a concept that would suit the space. After a short time, they settled on a design that not only incorporated the various forms of performing arts practised by the students but also the school song. The result was a set of four Corten steel panels with the song in musical form flowing between each.
Entanglements had the school's music teacher check our drawings a few times to make sure we had our notes in the right place prior to cutting the panels. Just one note out of place and the whole project would have been out of key!
Once rusted and ready, each panel was delivered to site and installed by the college's grounds team. They added some outdoor spotlighting to the rear of the mural to further add to the spaces interest and planted out the garden beds in front.
The finished space is now enjoyed by faculty and students alike. Some even say Entanglements created a "musical masterpiece". All-in-all, this was a very enjoyable project to have been a part of and Entanglements would like to thank all at PLC Melbourne for including them in creating such a wonderful mural for their school.