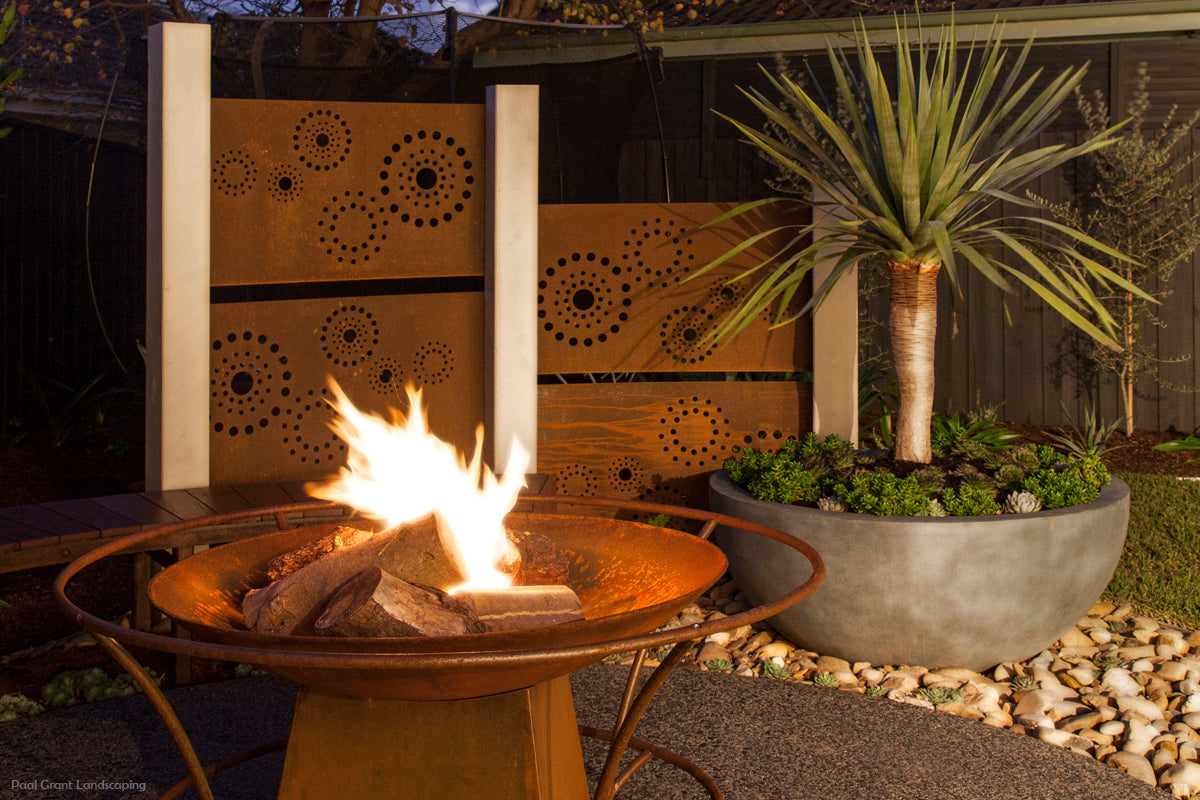 5 Firepit Ideas for Cosy Winter Nights
There's nothing quite like snuggling up around a warm fire on a cool winter night! The crackling of the logs, the heat of the flames, and the company of close friends and family all create the perfect way to enjoy the outdoors during the cooler months and make memories to last well beyond the season. 
Not only do fire pits provide a source of warmth and ambience, but they also offer a beautiful focal point for social gatherings that can transform your humble backyard into a sanctuary in just a few steps.  

So, get the marshmallows ready, here are 5 fire pit ideas for cosy Winter nights! 
Make it Comfortable 
Whether you prefer to nestle up on soft cushions or sink into plush blankets, there is something undeniably exquisite about sinking into a comfy chair and taking in your surroundings, which can be easily achieved with the right soft furnishings. Choosing rich, natural hues like burnt orange, deep reds, and browns are ideal for creating your own little slice of serenity. 
Hang String Lights
String lighting is the perfect way to create a magical and inviting ambience in any space, especially when working in a small area. Whether draped along a porch or wrapped around trees, these twinkling lights add a warm and cosy winter feel that instantly transforms any setting into an intimate retreat. When curling up next to the fire on a cool evening, string lights are sure to inspire feelings of romance and togetherness! 
Create Privacy 
Privacy is essential for creating a relaxing and intimate space, and one great way to achieve this is with a decorative metal screen. When placed around a firepit, our screens provide the perfect barrier to create a sense of seclusion. And with their sleek, modern design, they can also add an element of style to any outdoor space. Whether you're looking to create an evening oasis or simply enjoy a peaceful evening outdoors with friends, a metal screen can help to turn any yard into a heavenly spot for relaxation. 
 
Go Multifunctional

 
If you're working within a smaller space, consider a firepit with a lid that doubles as a table for you to rest food and drinks on during the warmer months. Include a lid with your firepit order - or just order a lid for your current firepit. Our quality metal lids keep the leaves and rain out and are also a handy safety precaution at the end of an evening. 
Have Fun with it! 
One of the best things about having a fire pit in your backyard is that it gives you the opportunity to get creative with your design. There are so many ways to personalize your fire pit to match your home and style. If you want something that is classic and elegant, you can opt for a simple stone fire pit. If you are looking for something more rustic, you can use bricks or logs. And if you really want to make a statement, you can use colourful tiles or patterned concrete. The possibilities are endless! Plus, designing your own fire pit area is a great way to add a pop of personality to your backyard.
Entanglements metal art is excited to offer a range of Melbourne-made fire pits to transform your outdoor space this Autumn! Made by Australian Artist, Helen Neyland,
our classic 8-10mm thick cast iron and hand-spun fire pit bowls are made out of the highest quality
steel for maximum durability
and can be finished in our signature rust or painted pot belly black. 
From simple designs to more intricate patterns, we have something to suit every taste. So why not take advantage of the cooler weather and heat up your outdoor space with a stunning Entanglements fire pit?

Explore our firepits and burners