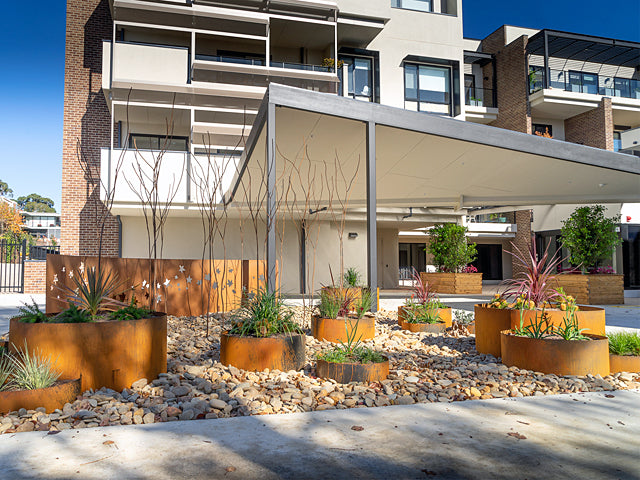 Bringing Creative Visions to Life
Written for Entanglements by Outdoor Design Source
Entanglements brings creative visions to life, collaborating with architects, landscape designers, and individuals to enhance public spaces. From late 2109 to early 2020, the Entanglements design team has delivered bespoke installations to two retirement living precincts, enhancing the landscape with life and colour. 
Right: Waterford Valley Lakes Oak Tree | Left: Manningtree Hawthorn Retirement Living
Founded by Helen Neyland in 1998, Entanglements is a pioneer in metal garden and wall art in Australia. Over the years, the Entanglements team of designers and artisan metalworkers has earned a reputation for original designs and meticulous workmanship, with the combined skills and expertise earning the company quite a few industry awards along the way.
Entanglements has both an online range for easy selection and a showroom that allows you to take an in-depth look at the types of products available. At the showroom, you and your client can feel the high-quality metal and discuss ideas with the inhouse designers and onsite fabricators.
Recently, Entanglements provided its bespoke art to two retirement living precincts, enhancing the outdoor spaces for the residents with colour and vivacity.
WATERFORD VALLEY LAKES, ROWVILLE
Entanglements was given the brief to bring to life the main entrance of Waterford Valley Lakes retirement village in Rowville while honouring the space, which was once home to an oak tree that was sadly lost during building works.
Entanglements designed and constructed a 2.6-metre-tall oak tree sculpture constructed from 5mm Corten steel and pipe, which brings an essence of charm and character to the precinct, and alludes back to the space's history.
MANNINGTREE HAWTHORN RETIREMENT LIVING
The name 'Manningtree' is thought to derive from 'many trees', which inspired the final design for the project. The brief was to create a unique focal point in the centre of the facility's driveway that was both aesthetically pleasing and safe for residents.
Initial concept drawings were submitted to the client to help visualise and bring the plan to life. Entanglements delivered a curved metal backdrop with complementing planters and grouped trees for the entrance of the facility.
The screen features maple leaf cutouts that add interest and adhere to the safety brief by ensuring the lookout was not obstructive for residents and guests.
Contact our team to specify bespoke metal art for your landscape project:
sales@entanglements.com.au